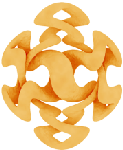 Symbolism of the five Dhyani Buddhas
The five Dhyani Buddhas are mentioned in most of the tantric systems and represent various physical and mental aspects. Here are given only some of the most common explanations and representations of these so-called 'Heads of the five Buddha-families'.
It should be noted though that many different forms of each deity exist, and different tantras can have slightly different explanations (for example, in the Kalachakra tantra, six Dhyani-Buddhas are mentioned, and most have different colors and shapes).
The five Dhyani-Buddhas are also often found on the crown on the head of tantric Buddhas, like this:

Mental symbolism of the five Dhyani Buddhas
Deity
Delusion
Enlightened Mind
Vairochana
ignorance, delusion
All-encompassing Dharmadatu Wisdom
Akshobhya
anger, hatred
Mirror-like Wisdom
Ratnasambhava
pride, miserliness
Wisdom of Equality
Amitabha
desire, lust
Discriminating Wisdom
Amogasiddhi
jealousy, fear
All-accomplishing Wisdom
Physical symbolism of the five Dhyani Buddhas
Deity
Element
Sense
Medical/physical
Organ
Vairochana
space
sight
energy channels
heart
Akshobhya
water
sound
blood flow
kidneys
Ratnasambhava
earth
smell
flesh
spleen
Amitabha
fire
taste
body heat
liver
Amogasiddhi
air
touch
inner winds
lungs
Names and relation to other Buddhas & Bodhisattvas
Deity (Sanskrit)
English name
Consort

Bodhisattva
Wheel-turning
Buddhas
Vairochana
Illuminating

White Tara
(Vajradhatvisvari)

Samantabhadra
Krakucchanda
Akshobhya
Unshakable

Locana

Vajrapani
Kanakamuni
Ratnasambhava
Jewel-born

Mamaki

Ratnapani
Kashyapa
Amitabha
Infinite Light

Pandara

Avalokiteshvara
Shakyamuni
Amogasiddhi
Conqueror

Green Tara

Vishvapani
Maitreya
Imagery symbolism of the five Dhyani Buddhas
Deity
Color
Direction
Gesture (mudra)
Vairochana
white
Center
Dharmachakra
Turning the
Dharma-wheel
(teaching)
Akshobhya
blue
East
Bhumisparsa
Earth-touching
Ratnasambhava
yellow
South
Varada
Bestowing, giving
Amitabha
red
West
Dhyana
Meditation
Amogasiddhi
green
North
Abhaya
Fearlessness
More symbolism of the five Dhyani Buddhas
Deity
Family symbol
and family
Syllable
Vehicle
Aggregate
Vairochana

Wheel

Tathagata

OM
dragon
form
(Skt. rupa)
Akshobhya

Vajra

vajra

HUM
elephant
consciousness
(Skt. vijnana)
Ratnasambhava

Jewel

ratna

TRAM
horse or lion
sensation
(Skt. vendana)
Amitabha

Lotus

padma

HRIH
peacock
perception
(Skt. sanjna)
Amogasiddhi

Double

vajra

karma

AH
Garuda
impulses
(Skt. Samskara)
See also:

http://www.buddhanature.com/
http://www.kheper.net/topics/Buddhism/dhyanibuddhas.html
http://www.exoticindiaart.com/article/dhyanibuddhas
Last updated: May 11, 2015